SUPPORT FOR LIFE
Designed and built with advanced fabrics to protect your body and enhance physical performance while you train with our innovative performance products.
BRACOO BP61 Low Back Airy Wrap with Cushion & Fixation
EFFECTIVE SUPPORT 
Designed to support the low back and muscle groups to have a neutral position. Using a combination of soft and hard elements, BP61 balances out the load weighing on your low back. The central lumbar plate is designed with specific grooves to keep your lumbar vertebrae vertically aligned​
KNOW MORE
BRACOO KS91 Knee Fulcrum Sleeve Breathable with Ergonomic Cushion Pad (pair)
PROTECTS AND SUPPORTS PATELLA
Ergonomic patella EVA pad, works in tandem with multi-zone compression, to disperse impact that can affect the kneecap. Excellent for users requiring additional patella support during workouts as it guides, rather than limit the knee joint
KNOW MORE
BRACOO BS34 Upper Back Fulcrum Wrap Ergonomic Splint
ALL-PURPOSE SUPPORT
using simple figure 8 design to give balanced support to your upper back, clavicle, and shoulders, with the purpose of encouraging good posture habits
KNOW MORE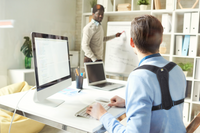 Support Your Life

A practical daily helper for the master worker.
Support and Comfy

Feels more comfortable and safer than not wearing it
Support Your Life
A practical daily helper for the master worker.
Support and Comfy
Feels more comfortable and safer than not wearing it
EXPERIENCE
I get serious muscle pain from the effects of my postural imbalance this has sorted it out within days of beginning to wear it. I'm delighted and would recommend it to anyone.

Davywavy2 (Vine Voice)
I have a bad injury in my elbow and the straps bring huge relief, plus it serves at a reminder that I need to take care and be careful before lifting things with that arm. Small and discreet, easily fits under a sleeve. Small and discreet, easily fits under a sleeve. Hugely recommend it. Arrived the day after I ordered it, very impressed.

Emma
I do a lot of cycling and hiking and have done for over 30 years now. I have used quite a few different straps/products from this supplier over the years and have found them all to be of excellent quality - these leg/calf compression sleeves are no exception.

Kev (#1 Hall of Fame Reviewer)